May 5, 2009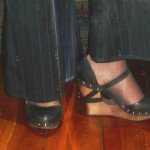 Check out the studded wooden wedges I'm wearing today.  I bought these shoes because I like the hole in the middle of the heel.  It makes something quite solid and clunky look very elegant.  Unfortunately, I can't say it makes my shoes any easier to walk in.  These shoes are made for standing in one place.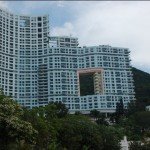 The design of these shoes reminds me of the Repulse Bay apartment building on Hong Kong Island's south side – one of my favourite buildings.  Rumour has it that the Feng Shui Master hired for this project insisted that the hole be built to provide a window on the ocean view for the dragon that lives in the mountain behind it.  Feng Shui kind of loses me when they start talking about dragons… I don't really care why the hole is there.  I just like it.
Holes represent the absence of something.  They give you a view that you would otherwise be unable to see.  They are visual silent pauses.  I think it's a good design principle and perhaps a good life principle.  In my world, I struggle with the absence of anything at all – information, advice, answers, decisions.  Sometimes a silent pause, visual or otherwise, might make the view clearer.  What do you think?  A bit deep for shoes isn't it?